When you're feeling worried or stressed, what helps you feel OK again? 
An OK Kit is a place to keep all of your ideas so you can always find your way to your OK. 
One project, endless possibilities.
Every kit is totally unique, just like its creator.
Just click on the kit to be transported to our project instructions, including a supplies list. You can choose to purchase your supplies or use recycled materials. 
If you're a school counselor, teacher or other youth group leader, check out our Workshop Guide for tips on organizing and facilitating your sessions. Feel free to reach out to us if you have any questions or would like our support.
To keep your kit growing, give these projects a try.
PROJECT # 50: MAKE SOME NICE DICE!
What are some things that always feel nice to you? Listening to music? Talking to a friend? Watching funny videos? Come up with 6 ideas and you're ready to make Nice Dice, the perfect little feel-good tool to keep inside your Kit.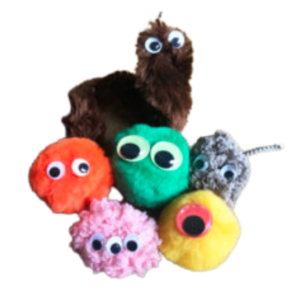 PROJECT #49: MAKE A PEACE PET 
There's nothing like a furry friend when you're feeling down or worried. And the great thing about these little pets is they fit inside your Kit. We also hear that they have the magical ability to carry your worries away.
PROJECT #3: CAPTURE THE FEELING
One way to share how you feel is to compare the feeling to something else, like bees buzzing in your head…then add some advice to yourself: "But I know the bees will eventually fly free!" How about turning your idea into a mini inspirational poster to keep inside your Kit? 
PROJECT #24: AWARD YOURSELF
What kind of encouragement could you use right now? Are you worried about a test? Have you been getting down on yourself for making a mistake (also known as being human)? Turn your self-doubt into self-encouragement by creating a mini Kit-sized award for yourself.
PROJECT # 10: MEET YOUR WORRY BEAST
Use paper, fabric or clay to create a mini worry beast to keep inside your Kit. Your little beast will probably have all kinds of suggestions for you, but you can always say, "shhhh, little beast, I got this." 
#30: CREATE YOUR OWN POETRY KIT
Cut out words from magazines and junk mail and you have a poetry kit! You can use tape or (if your Kit is metal) magnetic backing to create messages to display on the inside or outside of your Kit. Changing your message every day can be a nice daily ritual.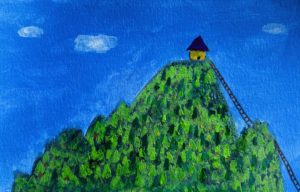 PROJECT #6: TAKE YOUR BRAIN ON VACATION
Sometimes, after so much thinking and worrying, your brain just needs to get away for awhile. Dream up your idea brain vacation spot and create a map to keep inside your kit.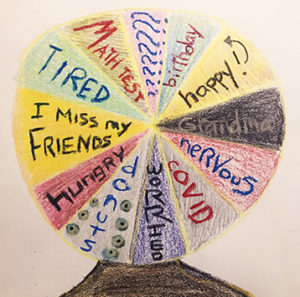 PROJECT #25: CREATE AN INNER SELF-PORTRAIT
This is one you can do every day, especially since a mini drawing wouldn't take very long. It's a great way to check in with your head, heart and body. And naming your feelings can be a powerful way to find your OK every day.
You can bring more OKness into the world by gifting an OK Kit supply box to a loved one or young person in our program. The OK Kit is an ongoing self-care ritual that can make all the difference to someone struggling to navigate big emotions and stay connected to their OK self.
Learn more and purchase your kits on our GIVE page.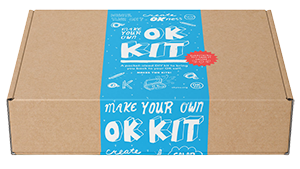 Contains supplies for making two OK Kits, plus extra materials for more creating.