OPEN TO ALL HIGH SCHOOL STUDENTS
IN OREGON AND WASHINGTON
SUBMISSIONS ACCEPTED
THROUGH MARCH 31, 2023
How do you work through
challenging times and feelings?
We're looking for
your creative ideas!
OK YOU works with all kinds of humans to design creative projects that support emotional wellness. Our goal is to inspire more people to create their own OK. We think of OKness as the sense of inner peace you get when you're feeling strong, calm and connected to your best self.
We believe we all have it in us to create that feeling for ourselves, and:
We believe that high school students have the
creativity and experience with complex emotions
to be creative wellness leaders for
other youth and for all of us.
ready for your challenge?
Working on your own or in a team of up to 3, come up with a creative activity that you think could help others explore and express their feelings, and stay connected to their OK selves.

Here are a few examples of projects that others have shared with us. 

For more inspiration, have a look at our CREATE page and YouTube Channel.


Share your project in a video of up to 5 minutes long or a slideshow that includes instructions for how to do your project and images of each step of the process. In our submission form we'll walk you through the process of developing and submitting your project.


Submissions will be reviewed by a panel of judges who are mostly looking for your ideas, energy and authenticity.
DO YOU NEED TO HAVE EXPERIENCE OR BE AN ARTIST?
Absolutely not. Your experience as a human is what we value most. 
Also, we believe that we're all creative in our own way, especially when we focus on what we love. Wherever you find joy and expression—in painting, cooking, music, nature, etc—that's where your creativity will come alive. 
Keep in mind:
We're looking for ideas not masterpieces. 
Creativity can be any idea or activity
that engages the imagination.
We like surprises!
If you are selected as a finalist, your project idea will be added to our

website

and

YouTube channel, where thousands of youth, families, counselors, teachers and others across the country will be able to try out your project and be inspired to create their own OK.


If selected as a finalist, you could win a cash award or art gift card (see below for details).



All participants

will be invited to and celebrated at an event on May 7 at the Portland Art Museum.


Your idea could make a difference in many lives and bring more OKness to the world!
All members of your team must be in high school.

 

You can work on your own or in a team of up to three.
You may ask for advice and guidance but not creative contributions from teachers, artists, or community members.
Be sure that your idea offers a creative way to explore emotions and stay connected to our OK selves.

Present your project in a video of up to 5 minutes or a slideshow pdf — follow our detailed instructions within the

SUBMISSION FORM

.

Read these guidelines and our

SUBMISSION FORM

carefully, and look over our

About page

to learn more about OK You's mission and approach.

 

To submit your project, complete the submission form by March 31, 2023. If you don't have a Google account to submit your project through this form, you can send it to submissions@okyou.org with OK YOU CHALLENGE in the subject line.

Only one submission accepted per person or team
Finalists will be selected by a panel of judges and notified by email at the end of April. 
Here's what the judges will be looking for: 
A project that is respectful to all learners and inclusive of race, gender and sexual orientation
A project that contains  language and content that is appropriate for younger students who may see your project on our website
A project that is clear, approachable, and can be completed with a level of ease by the user
A project that represents an original and creative way to express, navigate and befriend a complex emotion
A project that technically meets the requirements of a video no more than five minutes in length, or a slide show
Each of the above will be rated from 1 to 3 (low to high) with the total score used to determine our OK Challenge finalists.
All participants are invited to the OK Celebration at the Portland Art Museum on May 7 at 3pm
First place will receive a $300 Visa card*
*$600 for teams of 2 or more
Second and Third place will each receive a $200 Visa card*
*$400 for teams of 2 or more
12 finalists, including first-third place winners will receive an art gift bag, valued at $50 and your final project creation will be displayed on our website and/or YouTube channel for use by youth, families, counselors, teachers, and others looking to explore new creative wellness practices.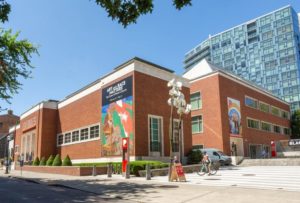 Reach out to us at hello@okyou.org. Thank you for creating more OK in the world—we can't wait to see what you come up with!